What does the word 'mystical' conjure up when you hear it? Do you see wizards or fairies or other 'mystical' creatures? When I think of mystical beings, I think of plants (of course!) and what they contribute to this earth. Without plants there would be no animals. no oxygen for us to breathe, no carbohydrates for us to eat, no way to keep us 'grounded' - literally! Think of mornings in the mountains with the mist over the trees, or the crunch of leaves under your feet in the fall. These mystical beings are integral to our 'being'; they give us hope each spring when they burst out of their dormancy letting us know that the world and life will continue. The vitality of growth in the summer, the wonderful colors and scents of fall and the quiet dignity of winter - all of these things remind us of the continuance of life and the great design behind it all.
Magnolias are one of life's great pleasures in that they give us beauty, texture, color and scent.
Did you know that magnolia flowers are associated with beauty, perseverence, dignity and nobility? Flowers, when found on heraldry (coats of arms) mean hope and joy. Magnolia flowers are found on the state crest of Mississippi and are also on the crest of the Magnolia Lodge, a Masonic Lodge in Washington, D.C. (as seen in the picture at the left).
Why magnolias, you may say; because believe it or not, our native song birds love the bright red covering, called the aril (the seed's edible flesh), of the magnolia's seeds. The high fat content of seed aril allows migrating song birds to build up the energy they will need to continue their trip to the southern regions of the world;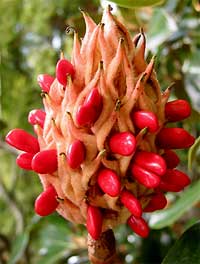 while our song birds who do not migrate will use this high fat food to keep them warm in winter. To watch a bright red cardinal, a gray-coated mockingbird, and the big bluejays fight over feeding spots on my magnolias is something that I look forward to every fall. They are not afraid to push each other off the most heavily laden branches and will fight over the best positions until they have eaten their fill. There are two major magnolia species that are native to the east coast of the United States. They are
Magnolia grandiflora
(Southern Magnolia) and
Magnolia virginiana
(Sweetbay Magnolia).
Magnolia grandiflora
, or the Southern Magnolia, is native to the southeastern United States. The native range of
Magnolia grandiflora
is considered to be from central Virginia south to Florida and west to Texas. In actuality, the southern magnolia can be found as far north as southern Pennsylvania and east to coastal southern New Jersey. This is not an increase in the northern portion of the southern magnolia's native range but is just the furthest north that this beautiful tree can be found. From its brilliant waxy evergreen leaves with their fuzzy undersides to the fragrant perfume of the flowers on a warm spring day, this is one mystical, magical tree that will give you years of pleasure and contentment. When you buy your first southern magnolia, remember to give it plenty of room to grow into the wonderful specimen tree that it can become. It does well in full sun and can tolerate partial shade, but remember, with full sun you will have more flowers. Place it in moist, well-drained humus rich soil and it will do quite well. Do not, though, add peat moss or other additives to the hole but plant it in areas that are naturally well-drained and rich in organic matter. It will survive in drier, less rich soils but never place it in an area that is wet or can become wet with standing water. It can also do quite well in high salt areas, thus its ability to live in coastal areas. One drawback is the southern magnolia's shallow root system which will not survive in heavy compact soils. If you decide to grow this tree, it can take up to 7 years for it to start flowering, so ask the age of the tree when you purchase it.
Magnolia virginiana
, or the Sweetbay Magnolia, is my favorite magnolia to grow. It is found in magnolia swamps along the east coast of the United States and there are actually magnolia swamps in both Delaware and New Jersey. This is a wonderful tree that can also be grown as a large multi-stem shrub.
In the southern parts of its native range it is evergreen, but as you reach the northern tips of its range, it will drop its leaves in the winter. I love this tree as it is one of the easiest and least troublesome of the magnolias to grow. In late May to early June, the most wonderful bright white flowers begin to open on the branches and the scent of these beautiful flowers will knock you off your feet the first time you smell them! In the early morning, on a late spring day, open your windows near your sweetbay magnolia and you will think that someone has sprayed a fragrant perfume through your windows! The scent is sweet and light and mystical and indescribable until you experience it yourself. The flowers will continue to open over a 2-3 week period and will keep their scent even if you cut the flowers to bring in the house or to take with you in the car as you travel throughout the day. Just like the southern magnolia, the flowers are a bright white with a yellow center; with the bright green of the leaves and the wonderful bright white waxy flowers, you can't go wrong with this beauty in your garden.
As the summer progresses, the flowers are pollinated by beetles, not bees, and the seed pods begin to form. They look like cones but as fall approaches, the seed arils will begin to turn red and eventually, when the seeds are gone, you will have great pods left to bring in and dry for Christmas decorations. I dry them and hang them like ornaments on the tree!
Both of these magnolias are definitely magical and mystical and a definite necessity in your garden.
Two more trees to add to your list of MUST HAVES for your native garden!
Next: Chionanthus virginicus - The White Fringe Tree!